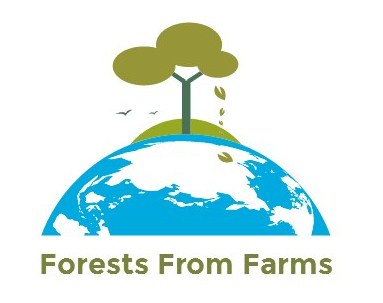 The old blogs can be consulted
France, 28 August 2020
Our New Friend

France, 1 August 2020
A genetta, rare and protected species @ Forestsfromfarms
France, 29 July 2020
Participation of the association Forests From Farms to the Fitnes Check of the EU rules concerning animal welfare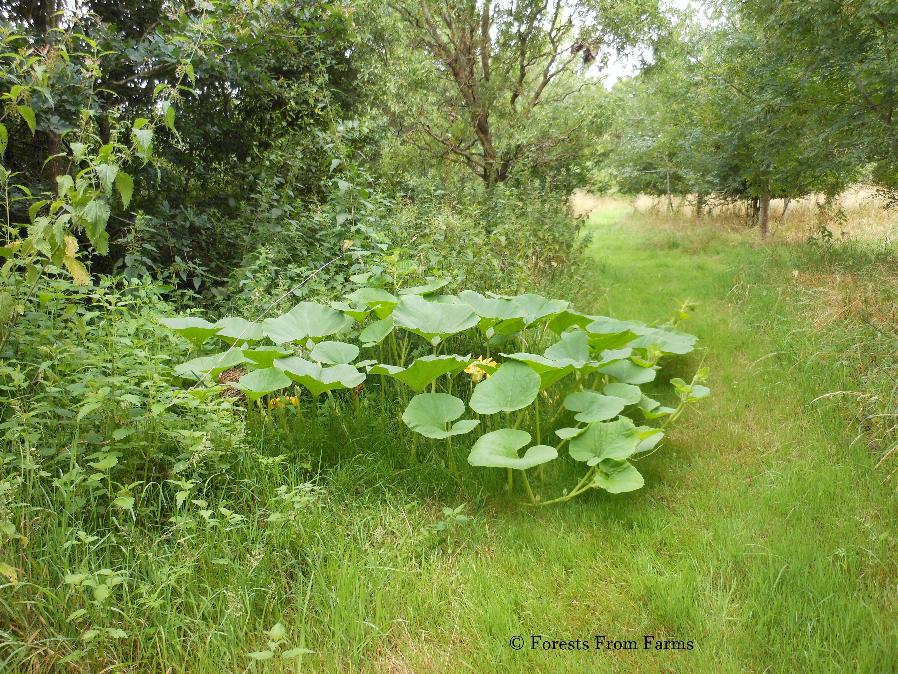 France, 23 July 2020
Mediterranean Tree Frog @FFF
France, 2 July 2020
Colours of summer @FFF
France, 13 June 2020
Newly born faon at Forests From Farms
France, 2 June 2020
The best images of 2019 at Forests From Farms
Taken with our hidden cameras. With in leading roles: Roe deer, boar, coypu, geese (our own domesticated ), a fox, a badger, a weasel, a buzzard and other birds... This is Part1 (From January to June). Part 2 (June to December) will be published soon.
France, 25 Mai 2020
Our Action Published in the independent magazine for the environment "Reporterre"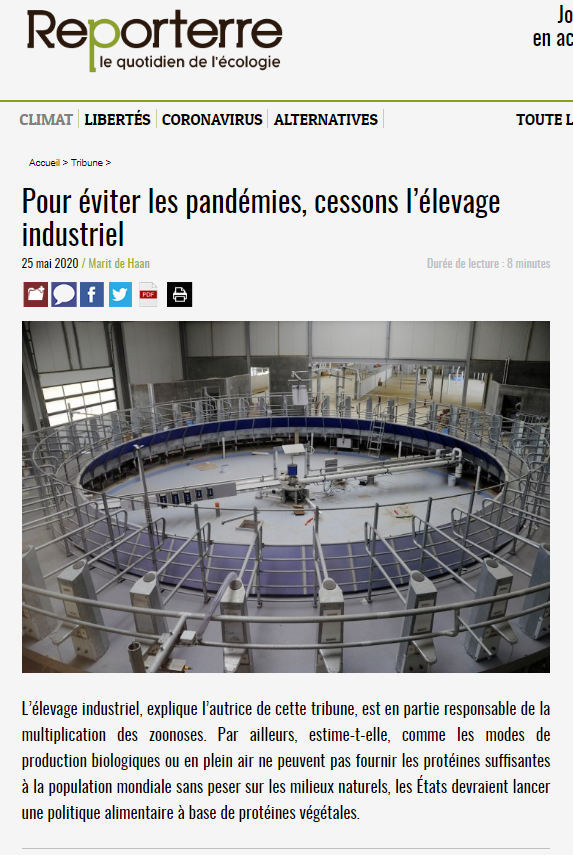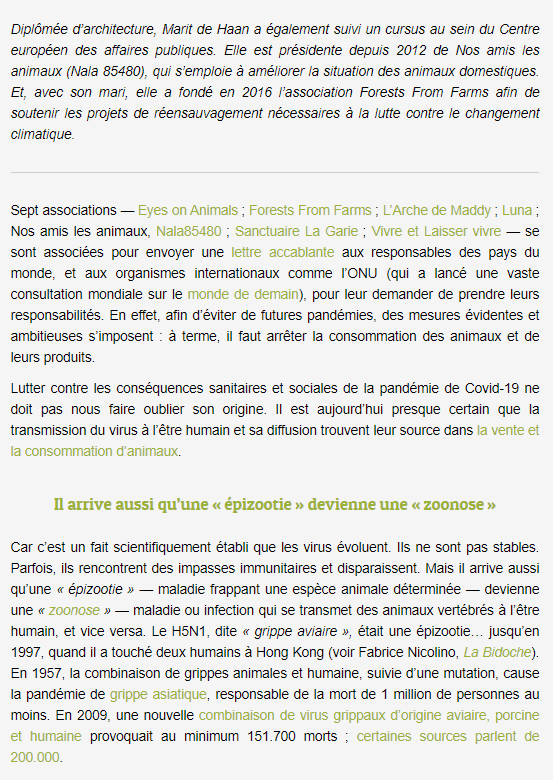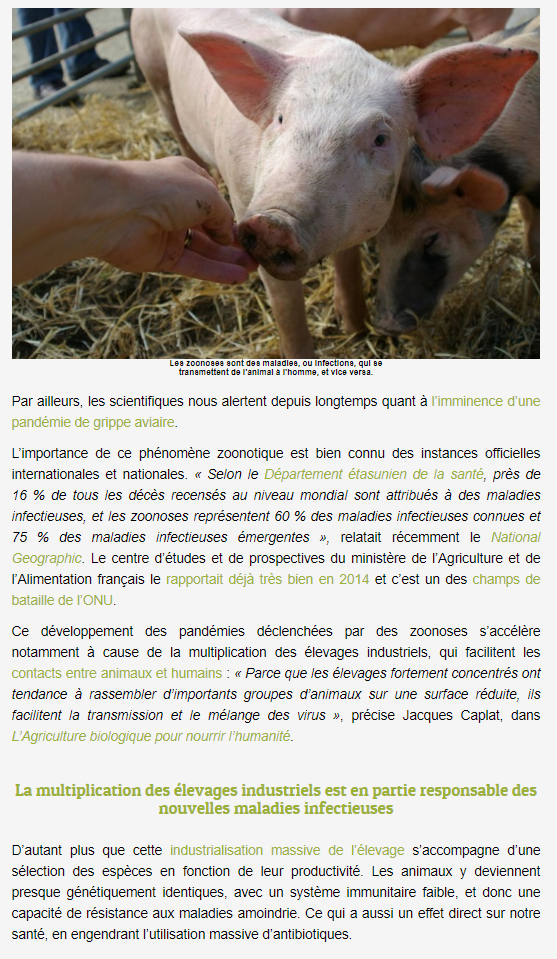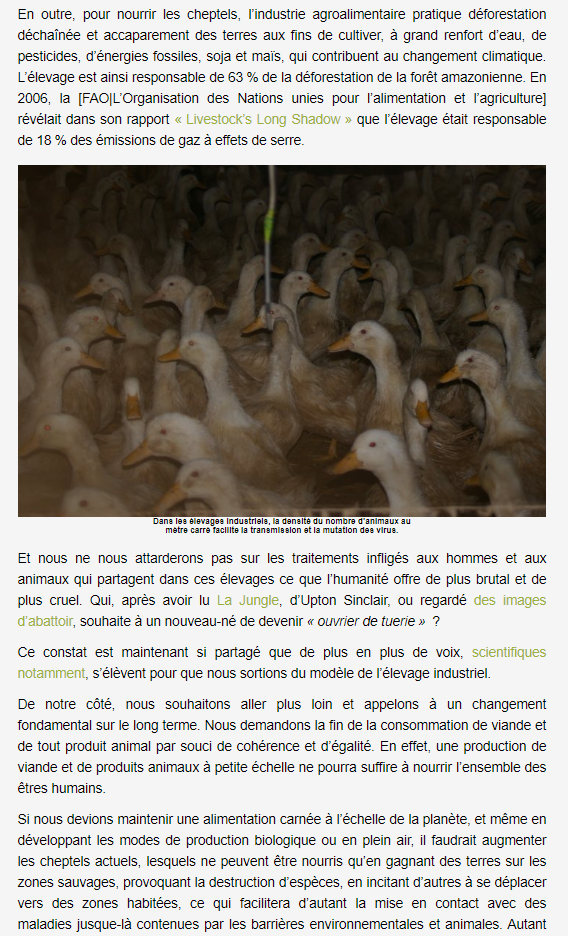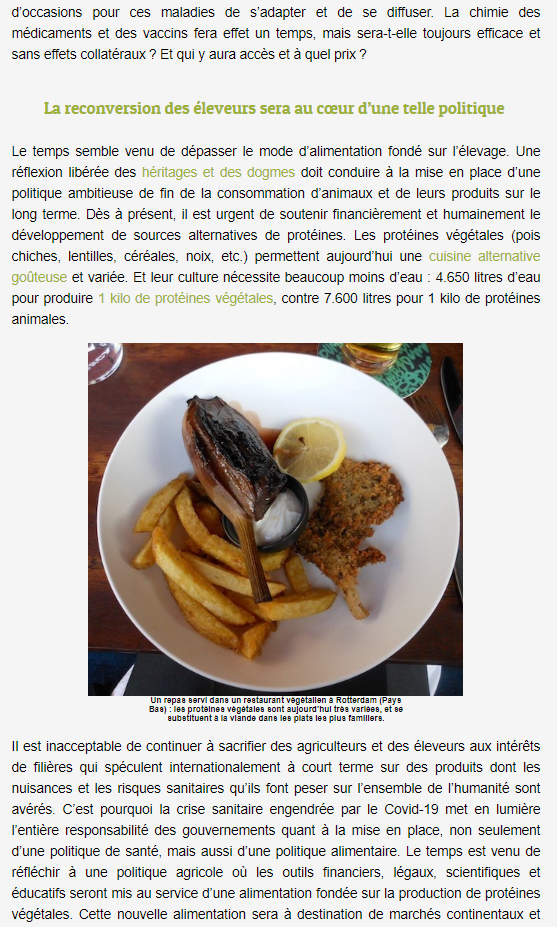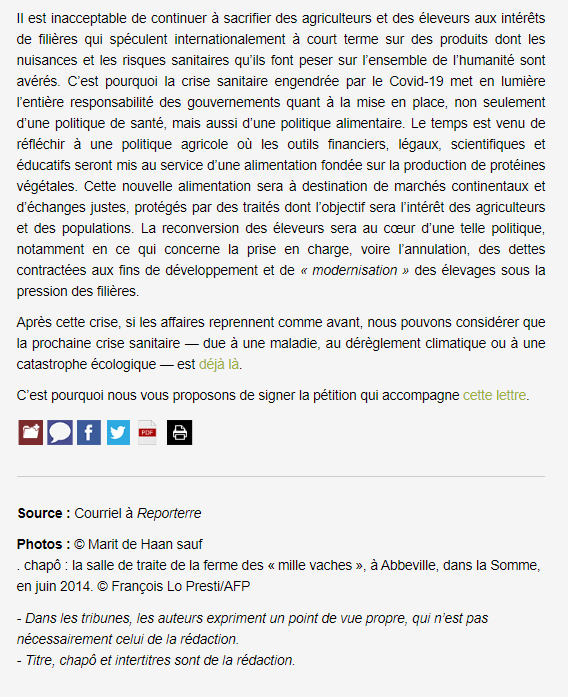 France, 17 May 2020
The Forest at Forests From Farms is taking shape
France, 1 May 2020
Letter to all heads of States and their governments about pandemics and the consumption of animal products
7 associations* have taken the initiative to send an unusual letter (listen to the video below) to heads of state and organisations like the EU, UN, etc., asking them to take their responsibility to prevent pandemics in the future by implementing some ambitious measures: in the long run, we must stop the consumption of animals and their products. At the moment, we are doing everything we can to fight the COVID-19 virus, but we must never forget where the virus actually comes from. There is
little
doubt that it comes from the consumption and sale of wild animals. COVID-19 is not the first pandemic. The largest was in 1918, when more than 50 million men, women and children died (almost the current population of France!) as a result of swine fever that also became transmissible from human to human through mutations. Hopefully we will not reach such a catastrophic number this time with the COVID-19 pandemic. But we are convinced that if we don't change our behaviour towards animals, there is a good chance that other pandemics will emerge. Scientists have been warning us for a long time. It is a call for drastic change in our society. We realise that but we think it is necessary. We invite other associations and organisations around the world to join us. Please sign and share the petition
"Avian Flu, Swine Flu, SARS, COVID-19
Meat Kills"
by clicking on the button below if you support this initiative.
*
The associations who took this initiative are :
Eyes on Animals
https://www.eyesonanimals.com/
, Vivre et Laisser Vivre
https://www.facebook.com/chaminous/
, LUNA
https://www.facebook.com/LigueUnivers...
, L'Arche de Maddy
https://www.facebook.com/larchedemaddy/
, Sanctuaire La Garie
https://www.lagarie.fr/
, NALA85480
http://www.nosamislesanimaux.com/
and Forests From Farms
http://forestsfromfarms.org/
France, 1 May 2020
Colours of snails
Each of them is a little architect that has created its own house for protection. The colours are magical.
France, 26 March 2020
Spring colors
These photos have been taken on our land. Weeds, flowers, plants, trees you name it. They are all beautiful.
France, 24 March 2020
Bees hard at work
France, 24 March 2020
Daisies galore good for insects
Freance, 24 March 2020
A bit of maintenance, but not too much. The rest is done by wildlife
France, 21 March 2020
Confinement COVID-19
Listen to the birds....
It is a lot quieter than usual without cars coming past.
France, 21 February 2020
At work at FFF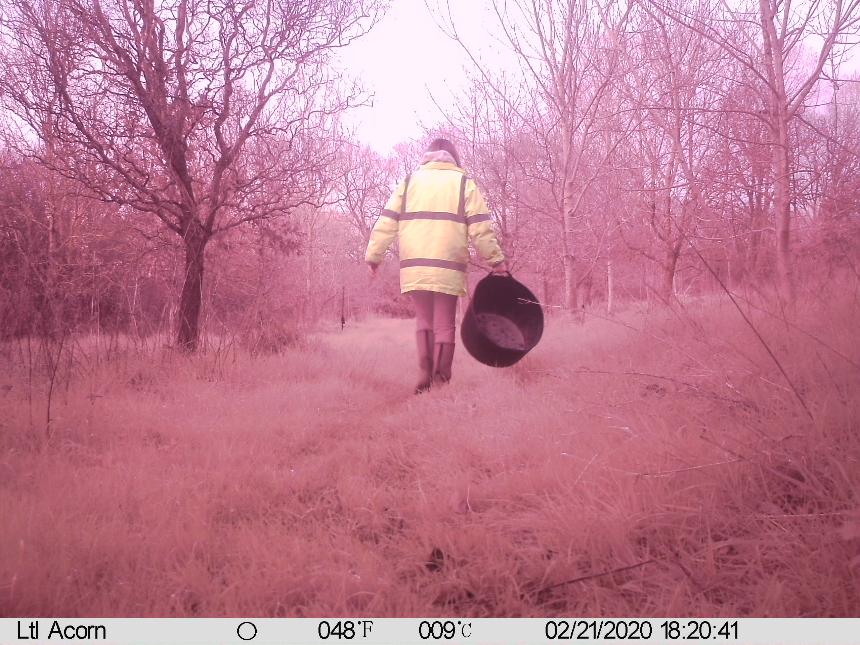 France, 24 February 2020
Public Consultation Broiler Farm Bournezeau
Todat we sent in our opinion for the public consultation concerning an enlargement of a broiler farm in the area. Of course we are against this project. The text below is our argumentation in English. The participation we sent to the authorities was of course in French. The photos of the document are published on the FFF facebook page.
"On a small scale the project will have negative impacts on the environment due to the removal of 70m of hedge and the loss of over 4,000 square metres of agricultural ground, not the 3,000 square metres that the declarant says on page 126, classeur 2 ( see below)
The loss of the hedge is purely arbitrary. It appears that there is no technical reason for the new building to be built parallel to the existing one. If it was built at an angle then it would not be necessary to remove any hedge at all. See plan de masse annex 5. If the building was built at an angle then the amount of land required for access would be reduced, so reducing the amount of agricultural land that is lost.
According to page 180, classeur 2 "La remise en état du site ne signifie pas le retour à un état supposé initial, qui n'est lui-même que le résultat de multiples transformations ou aménagements réalisés par les générations précédentes, mais aux mesures prises pour que ne se manifeste plus aucun danger après cessation d'activité, et pour éliminer les déchets."
The argument is not tenable. The fact that the generations precedentes didn't clean up is no reason to continue to make a mess. Society evolves. The loss of agricultural ground is completely attributable to this project. It means the loss of over 4,000 square metres for many decades or centuries, for a project that even the declarant optimistically ( and irrealistically) thinks is viable for only 30-40 years
On page 82 of classeur 2 with regard to Nitrates in the water in the area, the demandant uses a carte of 2011 - 2013. We are now 7 to 9 years further. When you look at the carte on this site:
http://carmen.carmencarto.fr/179/OSUR_NITR_SURF.map
the situation with regard to Nitrates in the water in 2018 is a lot more pessimistic.
.